Auf der diesjährigen Superbooth in Berlin präsentierte der polnische Hersteller drei neue, innovative Eurorack-Module, welche Fachpresse und Besucher begeisterten:
The ultimate MIDI to CV converter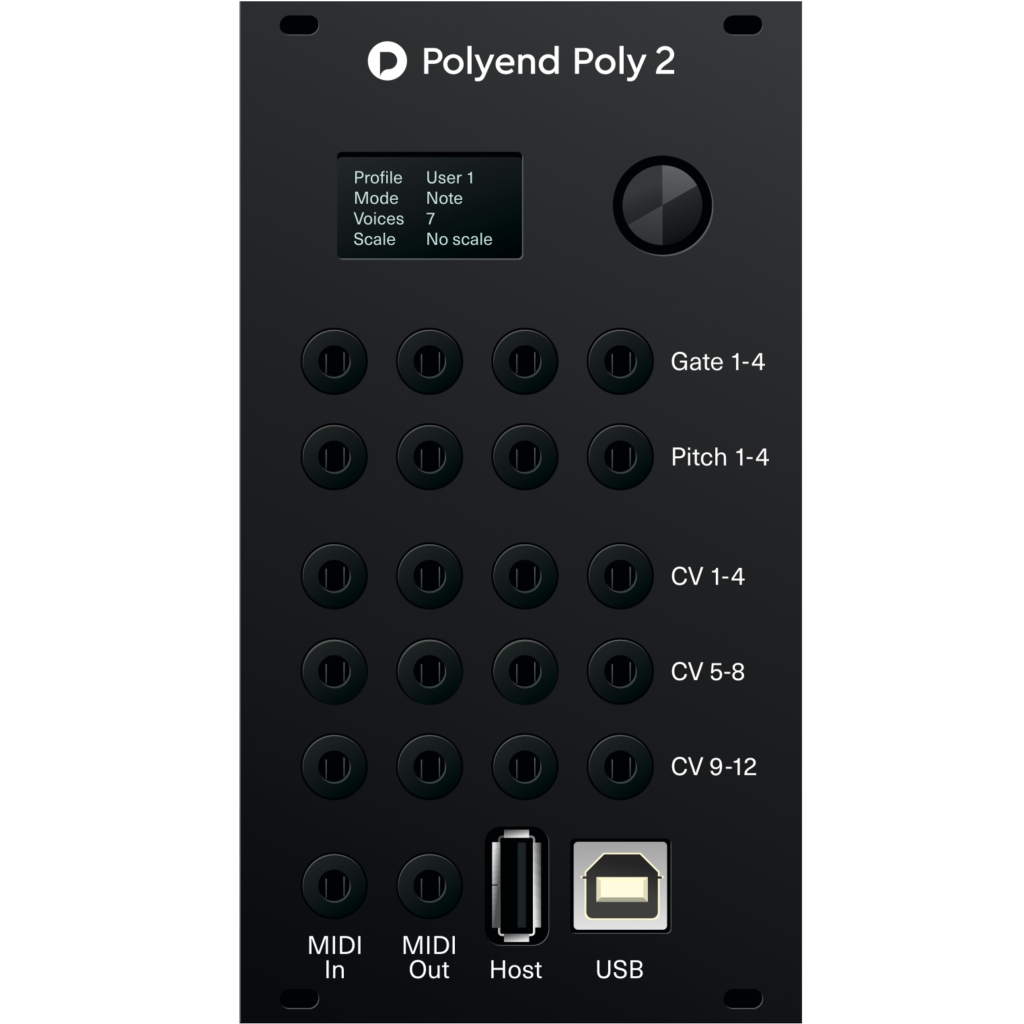 Mit POLYhatte Polyend bereits einen leistungsstarken, intuitiv bedienbaren MIDI/CV-Converter im Eurorack-Format im Sortiment, der es ermöglichte Class-Compliant und MPE-kompatible MIDI-Controller mehrstimmig in Eurorack-Systeme einzubinden. POLY 2 erweitert das Konzept um ein benutzerfreundliches Display, so wie zahlreiche neue, clevere Features. Bis zu vier Pitch- (V/Oct oder Hz/V) und Gate-Ausgänge (5 – 10 Volt), sowie 12 weitere CV-Ausgänge lassen sich frei konfigurieren und mit Hilfe des neuen OLED-Displays bequem als User-Presets speichern und abrufen.
Create, recall and sequence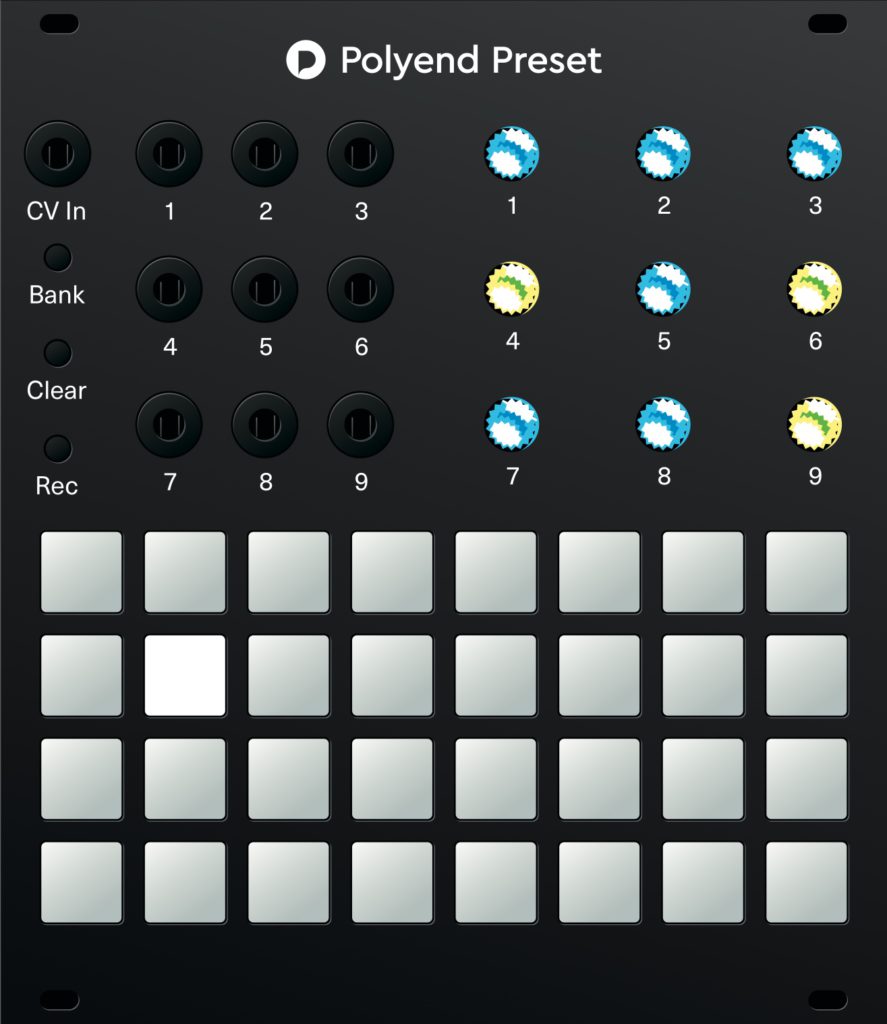 Bei der Bedienung großer Modularsysteme wünscht man sich aufgrund der Masse an Funktionen oft ein zusätzliches paar Hände um die vielen Funktionen und Bedienelemente gleichzeitig nutzen zu können. Polyend stellt sich dieser Problematik und präsentiert mit Preset ein vielseitiges, performanceorientiertes Modul, mit dem sich Sets von Steuerspannungen, Patterns und Sequenzen bequem per Tastendruck speichern und abrufen lassen.
Es stehen neun Ausgänge zur Verfügung, welche Note (1V/Oct), Gate, einen konstanten Spannungswert (0-10 Volt) und sogar bis zu 30 Sekunden automatisierter CV-Signale unabhängig voneinander ausgegeben können. Die neun beleuchteten Push-Encoder dienen dabei als Eingabemittel und geben, je nach Farbe der LED, Feedback zu Status und Funktion des jeweiligen Ausgangs.
Bis zu 1024 Presets lassen sich mit Hilfe der Pads in 32 Bänken mit jeweils 32 Presets speichern und bequem abrufen, sodass mit Hilfe des Moduls mehrstündige, komplexe Live-Sets organisiert werden können. Zudem dienen die Pads zur Eingabe von Sequenzen, Pattern-Chains, der inspirierenden Scales-Funktion und zum Steuern der Ausgangsspannung einzelner Outputs.
Set your Eurorack free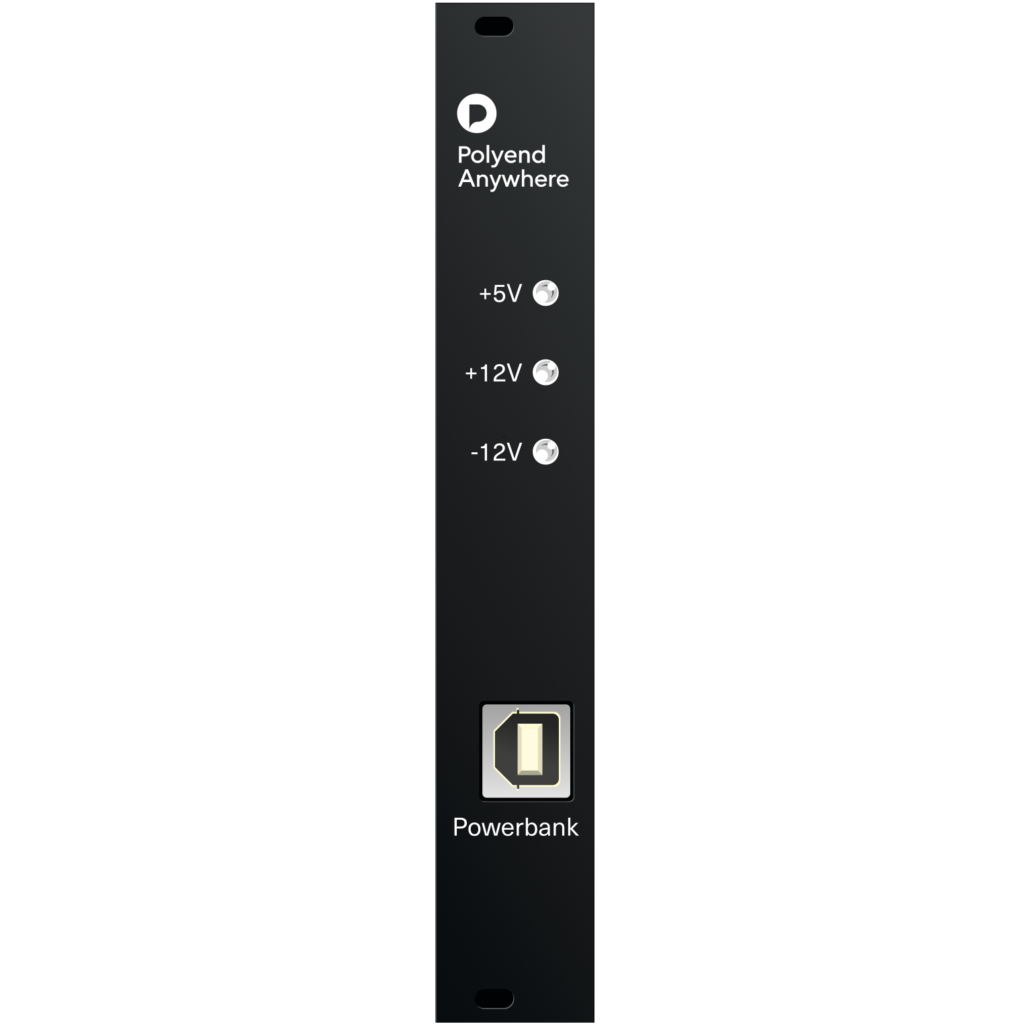 Anywhere ist die einfachste Lösung sein Eurorack-System aus seinem Studio ins Freie zu bringen. Der schlichte, platzsparende Converter erlaubt es sein Case, samt vielzähliger Module mit einer handelsüblichen Powerbank mit 20 Ah (Amperestunden) Leistung für mehrere Stunden mobil zu betreiben. So lässt sich z.B. ein Skiff-Case problemlos zu einer Jam im Park oder einer spontanen Backstage-Session mitnehmen, ohne auf einen Netzanschluss angewiesen sein zu müssen.